LORD

OF THE TITANS – TRIAD OF POWER 3.3.2023
CPA FIELD 5:30-9:00PM
This all-school festival is a Chandler Prep tradition – a school wide community event. It is an opportunity for students, parents, siblings, teachers, and teachers' families to come together, have some fun, and celebrate all that is Chandler Prep! There will be activities for all ages, outdoor stage entertainment featuring our wonderful school performing groups, inflatables, food, fun surprises featuring some of our amazing faculty, and of course, our popular Titan Triad Talent Show featuring students AND teachers!
---
Upcoming Triad Planning Meetings – open to all members of the Chandler Prep Community. Come join one or two or as many planning meetings as you would like.
Wed, February 22, 2023 at 8:30am – CPA Cafeteria (this is the last one scheduled for 2023). Scroll down to learn more about Triad, find ways to get involved and join this fun event.
---
Wristbands & Shirts & Raffle Tickets – wristbands are required for children two years and older, entry is free for adults. Shirts are optional. On March 3rd, scholars can wear their Triad shirt in lieu of their uniform polo. Reminder – T-Shirt and T-Shirt Bundles are only available for pre-order until February 14.
Pre-Purchase prior to the Event:
– Bundle (includes Shirt & Wristband) $25.00
– Shirt Only $15.00
– Wristband Only $12.00
At The Door Purchase the day of the Event:
– No Bundle Available
– Shirt Only $15.00 (limited supply, first come first served)
– Wristband Only $15.00
Raffle Tickets (available to pre-pre-purchase or at the door the day of the Event):
– 1 Ticket for $1.00
– 3 Tickets for $2.00
– 7 Tickets for $5.00
– 15 Tickets for $10.00
Raffle Prizes:
– Apple iPhone 14 256GB Midnight Blue
– Xbox Series S
– Fortnight & Rocket League Bundle
– Loaded Gift Basket – includes a Watercolor Painting of "Numenor" from one of our art teachers plus lot of other amazing surprises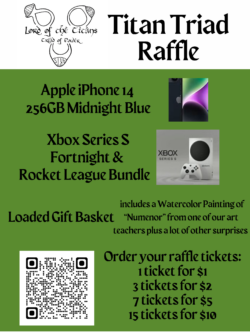 SALES: Follow this LINK to place your orders online for Shirts, Wristbands and Raffle Tickets – Reminder – T-Shirt and T-Shirt Bundles are only available for pre-order until February 14.
DISTRIBUTION – See below for Wristband and Shirt Distribution details:
– Thursday, March 2nd – During Lunch & Lyceum – in the Forum
– Friday, March 3rd – Before School and During Lunch & Lyceum – in the Forum
NOTE: Adults do not require a wristband to enter the event. Children (2 years old and up) require a wristband for entrance. Wristbands can be purchased at the gate for $15. If you have a concern with the ability to purchase wristbands for your student(s), please contact the PSO. We never want this to prevent any one of our wonderful students to be able to attend the Triad.
---
Volunteers Needed – this annual event would not be possible without help from our school community. If you are attending the event, please consider signing up to volunteer for at least one shift.
– Follow this SIGN UP sheet for more details and to sign up to volunteer.
---
Sponsorship – we are looking for local businesses to help sponsor our upcoming Triad event. These business sponsorships help provide exciting attractions to our highly attended event while offering visible marketing for their businesses to our fellow CPA families. Reminder – Deadline to become a sponsor is February 17.
– Triad Sponsorship Form
– Configio
Sponsorship Level:
Bronze Level $100 – your company logo and business information will be displayed at a Triad booth and during event acknowledgement.
Silver Level $200 – your company logo and business information will be displayed on a sign at the Triad entrance and during event acknowledgement.
Gold Level $300 – your company logo printed on the entertainment stage + 3 social media acknowledgement and during event acknowledgement.
Platinum Level $500 – Triad booth + sign at entrance + stage + social media and during event acknowledgement.
2023 Sponsors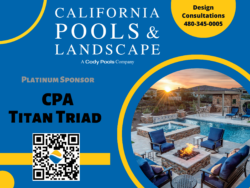 California Pools & Landscape
Web www.calpool.com
IG @calpools
FB @californiapool
---
Entertainment, Prizes, Food & Booths – there will be booths, bounce houses, food truck, amazing prizes and lots of entertainment at this grand event.
Entertainment & Booths:
The main stage will showcase some of the wonderful extra curricular musical groups, Jazz Ensemble, Men's Choir and A Cappella Club leading up to our Talent Show. The talent show will include our very talented Middle School and High School students as well as some of our amazing faculty.
– Cake Walk Booth – led by Strategic Games Club
– Archery Booth
– Photo Booth – led by Yearbook
– Face Painting Booth – Student Led
– Ninja Warrior Dome
– Vertical Rush Obstacle Course
– Joust Arena
– Hungry Hippo Booth
– Camelot Castle for younger children
Food Trucks Information: Come hungry, food trucks will accept cash or credit cards. PSO will also have Carnival Concessions available with snacks and drinks.
– Soda Rush: Soda shop with gourmet cookies, drinks, ice cream and many more sweet treats (Menu)
– Bens Pretzels: CPA family-owned vendor offering nearly half a pound of buttery soft pretzels right out of the oven (Menu)
– Detroit Coney Cruiser: Finest coneys in the valley with a Detroit-family vibe (Menu)
---
THANK YOU CPA FACULTY, FAMILIES, VOLUNTEERS AND VENDORS
FOR ALL YOUR SUPPORT TO MAKE THIS EVENT POSSIBLE!!