APRIL 2023
The next Community Meal Fundraiser is coming up on 4/19 – Mention the name of the school CHANDLER PREP and Someburros will donate 30% of the event sales to our school.
DATE: Wednesday, April 19, 2023
TIME: All Day from open to close, hours are from 9AM to 9PM
LOCATION: Someburros at the Chandler location on Frye & Price
3461 W. Frye Rd. Chandler, AZ 85226
PHONE: 480-726-8226
– No need to present this flyer – just mention CPA CHANDLER PREP when placing your order by phone or in person.
– Visit https://www.someburros.com/our-menu to view their menu online
MARCH 2023
CPA March Community Meal Fundraiser – Mention the name of the school CPA CHANDLER PREP and Pork on a Fork will donate 20% of the event sales to our school.
DATE: Wednesday, March 22, 2023
TIME: All Day, open from 11AM to 8PM
LOCATION: Pork on a Fork BBQ Chandler
1972 N. Alma School Rd, Chandler, AZ 85224
PHONE: 480-535-8384
– No need to present this flyer – just mention CPA CHANDLER PREP when placing your order by phone or in person.
– Visit https://www.porkonafork.com to view their menu online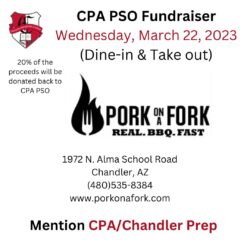 FEBRUARY 2023
CPA February 2023 Community Meal Fundraiser – Mention the name of the school CPA CHANDLER PREP and Floridino's will donate 20% of the event sales to our school.
DATE: Thursday, February 16, 2023
TIME: 3:30 PM to 9:00 PM
LOCATION: Valid at this FLORIDINO'S PIZZA & PASTA location only: 590 N Alma School Rd #35, Chandler, AZ 85224.
PHONE: 480-812-4433
– No need to present this flyer – just mention CPA CHANDLER PREP when placing your order by phone or in person.
– Visit https://floridinos.net/ to view their menu online
NOVEMBER 2022
CPA November Community Meal Fundraiser – Mention the name of the school CHANDLER PREP and Panda Express will donate 20% of the event sales to our school.
DATE: Thursday, November 10, 2022
TIME: 9:30 AM to 9:00 PM
LOCATION: Valid at this PANDA EXPRESS location only: 2905 West Ray Road, Chandler – Price & Ray.
ORDER: 480-917-0945
– Show this flyer from your smartphone if placing your order in person.
– Enter 345655 in the fundraiser code box if playing your order through www.PandaExpress.com or if using their App to place your order online.